Although sadly they fared little better, the Redwings were racing at Cowes this week. Congratulations to James Wilson & Edmund Peel in Quail (30) which was the overall winner.
Harlequin (18), Matt Alexander & John Raymond, was second and Enigma (46), Mark & Jo Downer was third. Quail was third overall in White Group.
Monday 2nd August (ESE 4)
The crews of four One-Designs headed out to Under Tyne for a 10 o'clock start, as did Sea Breeze, however although the very heavy early morning rain had lifted, it was not long before everyone thought better of it once it became obvious that even getting aboard the boats on their moorings at Under Tyne in the nasty easterly swell was going to be both unpleasant and unsafe. A hasty retreat to the bar for coffee was therefore agreed by one and all!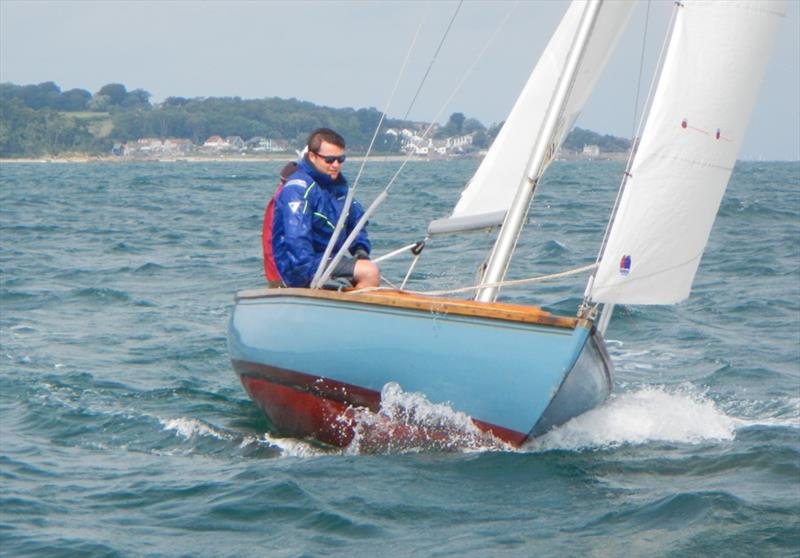 Seventeen Scows cruised to Priory Bay early evening in the gentle F2 SW breeze. Now that's bizarre weather for you!
Tuesday 3rd August (NW 1)
Three crews (Simon Allocca in No 1, Mark Gregorczyk in No 9 and D Orange in No 12) changed sails to normal mains and genoas and drifted out to Sea Breeze anchored at E in the F1 NW to NE'erly breeze. After a frustrating twenty five minute wait, they all decided that the forecast SW'erly was going to be too long in coming so voted to make their way slowly back to their moorings.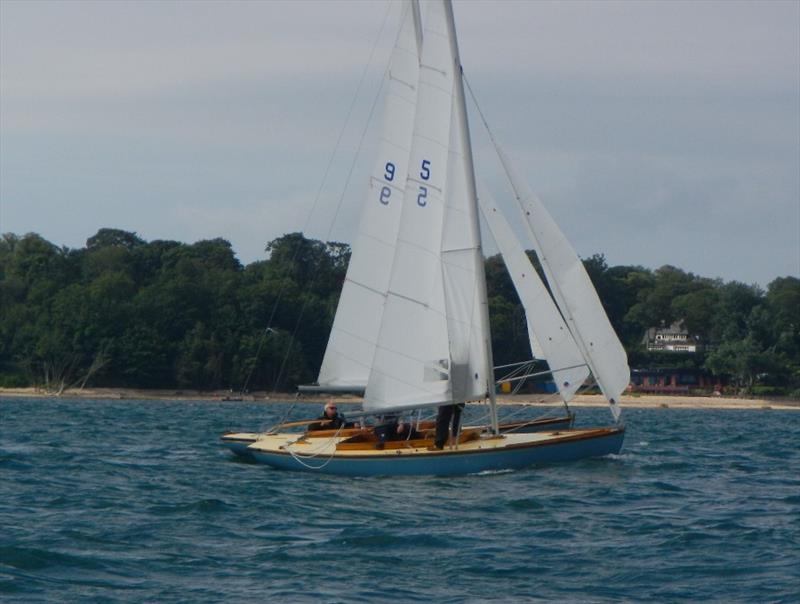 Thursday 5th August (SE 4-5)
Although Thursday's forecast was for wind & rain, in the event there was a F4, gusting F5 SE'erly and it didn't rain until everyone was back at the Club. The first race had three entries with Charles Evans (sailing single handed) in No 10 joining in after one round. James Beart in No 5 and Mark Grzegorczyk (also single handed) both crossed the line close to the pin on port tack with Charles Perry (who had rigged up with a storm main) as the only one on starboard. James was first round the windward mark (E) although Mark was close behind and looked as if he would make it to the leeward mark (B) first, however James kept ahead and being two up with his father widened the gap on the beat back to E. Shortened to finishing on the down wind leg, saw No 5 first, No 9 second and No 8 third.
After being caught out trying another port tack start in the second race and having to give way to No 8 & No 9 on starboard, No 5 had all the play for.
Start of the 2nd Race on Thursday: https://youtu.be/THwcQRYTgKE
Interestingly the slight increase in the wind strength and increasingly lumpy sea worked to No 8's advantage and it was good to see Charles Perry first round the windward mark (E) and leeward mark (D), however disappointingly for him his tactics of heading into the Bembridge shore did not work and the Beart's additional weight put them ahead of Mark & Charles Evans going into a final extra loop from E to Y and back to E. It certainly was not a procession and there was less than 20 seconds between the front three.
Friday 6th August (SW 7)
SW'erly F7 at Chimet not surprisingly meant everyone decided there were more sensible things to do so N over A was displayed at 09:10!
Saturday 7th August (SW 6-7)
Four One-Designs ventured out in showery F5 conditions this morning to a start at JJ, giving a good windward leg to Garland. The course was set to be JJ/Garland twice round, with a final windward leg to finish at Garland.
A lively start resulted in No1 (Simon Allocca) taking a 360 penalty and then heading up the course on starboard, with No 5 (Susie Beart), No 7 (Charles Abel Smith) and No 8 (Charles Perry) all heading right on port. Simon in fact came out okay from this and was a very close second to Charles P at the windward mark, with Susie and Charles A S in hot pursuit. After an uneventful run to JJ the feature of the second beat was Susie's decision to head right on port, which paid off and gave her the lead at Garland over the other three boats. After the second run Susie built on her lead, and took the gun ahead of Charles P, Simon, and Charles A S.
Sunday 8th August (SW 6-7 rain showers)
SW'erly F6 at Chimet and rain showers, plus the morning after the Club Summer Party, put paid to any racing this morning. So N over A was displayed at 09:15!
Photos courtesy of Mike Samuelson